How Radical Safety Works
Are your people frustrated with mounting regulations alongside continuing field incidents? Do you maintain implementation of safety programs while seeing the same, year-over-year, results? Radical Safety is an approach that is the opposite of conventional wisdom. Vince Poscente stands for a long-term impact within a safety conscious culture. While other speakers focus on avoiding mistakes and embracing additional policies, Vince goes directly at the heart of the neuroscience of safety. "When people change their minds, they change their results."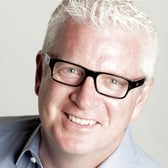 Vince Poscente has a prolific background regarding safe outcomes in volatile situations. He is as an Olympian (skiing at 135 mph down a mountain) or leading climbing expeditions in the Himalayas (zero incident in 14 years) he is an expert in improving on the job performance and safety. His leadership approach with Radical Safety covers "must haves" for every employee:
Clarity - an "emotional buzz" connection to job performance.
Commitment - the shift from episodic buy-in to continuous commitment.
Consistency - an itemized approach physical, technical, mental and financial preparedness.
Confidence - the relationship of fear and confidence; directly tied to peak job performance.
Control - ideal routines are the cornerstone of superior and safe outcomes.

"When safety is personal, the entire organization can achieve zero incident."