Transform Your Employees
to be Radically Safer
Can you think of a time when the corporate safety goals were established but the people weren't invested in the process? Now imagine a world-class culture where people are invested in process and work together.
The more invested people are in the process, the stronger the Radical Safety Culture becomes. The neuroscience of performance, minimizing risk and safety has everything to do with how each of us aligns our conscious and subconscious mind. World Class Safety Cultures are created when a collection of people and list of processes intersect as a team. It's at this point we can influence corporate performance.
Radical Safety is an approach that is the opposite of conventional wisdom. Vince Poscente stands for a long-term impact within a safety conscious culture. While other speakers focus on avoiding mistakes and embracing additional policies, Vince goes directly at the heart of the neuroscience of safety. "When people change their minds, they change their results."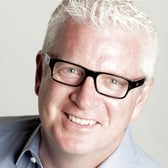 Vince Poscente has a prolific background regarding safe outcomes in volatile situations. He is as an Olympian (skiing at 135 mph down a mountain) or leading climbing expeditions in the Himalayas (zero incident in 14 years) he is an expert in improving on the job performance and safety. His leadership approach with Radical Safety covers "must haves" for every employee:
Clarity - an "emotional buzz" connection to job performance.
Commitment - the shift from episodic buy-in to continuous commitment.
Consistency - an itemized approach physical, technical, mental and financial preparedness.
Confidence - the relationship of fear and confidence; directly tied to peak job performance.
Control - ideal routines are the cornerstone of superior and safe outcomes.

"When safety is personal, the entire organization can achieve zero incident."