Radical Safety - Behavioral Change with the Neuroscience of Safety and Risk.
"When safety is personal, the entire organization can achieve zero incident."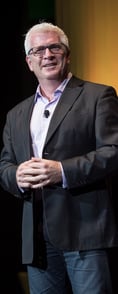 Bio: Vince Poscente is the founder of Radical Safety LLC. His background as a NY Times bestselling author of seven books, Olympic skier, Leader of Himalayan Expeditions, and a Masters in Organizational Management, makes him uniquely qualified to present on minimizing operational risk and the neuroscience of safety performance. Vince is an inductee into the Speaker Halls of Fame in the US & Canada.
Keynote: Vince Poscente's signature wit and wisdom combine with his perspective on the neuroscience of safety for a message you won't soon forget. As Founder of Radical Safety, LLC, Vince travels the globe weaving a message of safety performance and minimizing operational risk by challenging each audience member to embrace a zero-incident mindset.
As a NY Times bestselling author, this Hall of Fame speaker can affect behavioral changes with practical insights from his stories of "recreational skier to Olympic skier in four years" and "guiding expeditions into the Himalayas, while naming mountains after every-day heroes."
Vince delivers a fresh and high-energy perspective on Clarity, Commitment, Consistency, Confidence, and Control. This is the backbone of his entertaining, educational and motivational Radical Safety keynote presentation to improve your existing safety competency model.