Overview of Vince Poscente's keynotes: Vince is a high-energy expert on strategies and solutions that will definitely change how your team handles crisis, problems, competition and change while reaching all goals. He was rated by MPI as the top ten speakers in North America and Meetings & Conventions "Meeting Planners' favorite speaker."
Keep scrolling for following topics:
Full Speed Ahead

- Sales and Leadership Events
Accelerate Breakthroughs -

Virtual Presentation for Leaders or Sales Audiences

Accelerate Franchise Growth

- Winner's Mindset for Franchise Conventions

Accelerate Safety

- Safety Conferences (Vince doesn't stand on a chair :-)

Get Your Buzz On

- Network Marketing Meetings
Call 214.335.0856 or email info@vinceposcente.com
for Booking Information
***************************************************
Keynote for Sales or Leadership:
Full Speed Ahead
"Do What the Competition is Not Willing to Do"
FULL SPEED AHEAD is a powerful keynote speech that uses his "recreational skier to Olympics in four years story" to deliver the inspiration and tools to accelerate growth.
Vince, a New York Times Bestselling author, draws audience takeaways from: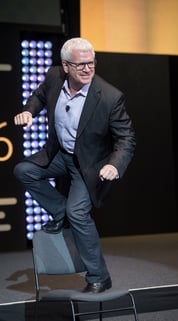 Whether your audience is in sales or leadership, they are a unique collection of high-performing individuals, with considerable expectations, facing a cascade of challenges and uncertainty. This is coupled with a world of hard-driving, personal accountability along with the search for life balance. An award-winning salesperson and former corporate executive, Vince Poscente, delivers a wildly entertaining, thought-provoking, and substantive insight on how people can thrive in a high-performing or competitive landscape. Vince knows about speed and focus. He skied at 135 mph down a mountain. He shares a remarkable formula regarding:
Clarity of Purpose
The Process of Commitment
Consistent Effort in a Demanding Environment
Building Confidence Despite a Cascade of Change
Control Routines to Optimize Outcomes
Giving leaders and/or their salespeople a collective experience allows a conference fulcrum for better execution and higher profits. Vince Poscente has profoundly affected countless conference attendees as they explore internal motivation and their own future potential.
_______________________________
(Studio Presentation or Live Keynote)
Accelerate Breakthroughs

This message has practical takeaways and instant motivation to get your team and their activities back on track. It has been delivered around the world for audiences wanting a high-energy, humorous, and inspiring message to break free from the limitations of chaos and 'stuckness.' It revolves around the three key elements of The Solution Loop:

Collaboration is a function of internal and external alignment. It is triggered by looking outside yourself from a different viewpoint.
Curiosity towards limitless possibilities of what a new reality looks like.
Creativity to narrow in on the best options that work best for those involved.
Companies have used The Solution Loop in From Setback to Breakthrough for remote and in-person events. From Setback to Breakthrough helps employees feel part of a great organization dedicated to course correction and renewed momentum.
The Solution Loop is a methodology taken from Vince's most recent book, The Earthquake - Your Journey from Setback to Breakthrough. Testimonials for Vince's approach are:
In the business of life, we each, eventually, face a life-altering setback or personal devastation. How you respond can be the difference between feeling stuck or breaking through. Break free with Vince's insights.
Donald J. Carty, Chairman Virgin America
It is in that still and lonely place that we learn life's most transformative lessons. Vince provides a how-to guide for anyone who's ever hit rock bottom and sees no way up. It is about triumph in the midst of tragedy, of overcoming the seemingly insurmountable and it is about an inexhaustible faith under fire.
T.D. Jakes, CEO of TDJ Enterprises, Movie Producer & author of Crushing
_______________________________________
Keynote for Franchises:
Accelerate Franchise Growth
"To be a winning franchisee,
be Aligned, Agile and Adaptable."

In the franchise world, the Winner's Mindset points to one thing: Do what the competition is not willing to do. How? Imagine these franchisee takeaways:
Align with the entire company rather than a "wait and see" approach.
Embrace rapid change with Agility rather than resistance.
Adapt by owning 100% of every solution - as a team.
For 25 years, Olympian and NY Times bestselling author, Vince Poscente has been helping franchises accelerate growth with ALIGNMENT, AGILITY, and ADAPTABILITY. The franchise world has experienced more technological change and generation disruption than many industries. It is time to stop the overwhelm and have everyone adopt the Winner's Mindset.
Vince's keynotes have the following Advantages:
Alignment with the company system.

Leverage franchise tools, processes and brand messaging.
Use the Emotional Quotient to align the culture.

Agility in your local market.

Do what the competition is not willing to do.
Target local market advantages.

Adaptability for optimum franchisee output.

Utilize the knowledge from your event.
Put conference ideas into action.
Vince takes the Winner's Mindset from his Olympian background and couples it with over two decades of research on peak performance in the franchise world. When you experience his electrifying energy and fun-loving style, you will know why he is one of the youngest inductees in the Speaker Hall of Fame with the likes of Ronald Reagan, Zig Ziglar and Og Mandino. While he provides hands-on, goal attaining tools that are immediately useful for franchisees, his edge-of-seat motivating stories are complete with 135 mph ski videos and heart-pumping music! Vince delivers take-action-today inspiration that put him on the Who's Who of Franchise Growth experts.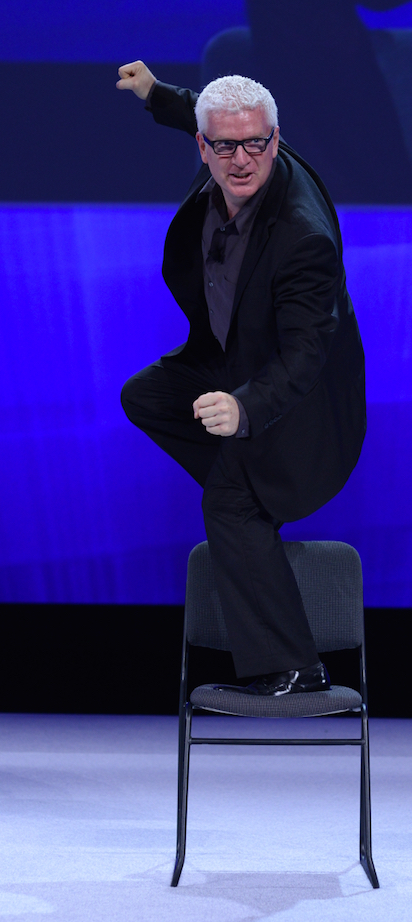 Takeaway One - Alignment.
Create an Emotional Buzz for team momentum.
Implement "Do what the competition is not willing to do."
Takeaway Two - Agility.
Work smart in real time.
Become nimble leaders.
Work past any obstacle as a team.
Takeaway Three - Adaptability.
Own the solution.
Use the Accountability Pivot.
Vince Poscente uses his background as an Olympian and Expedition Leader in the Himalayas to address a franchise's two main concerns: Excellence in a competitive landscape and resilience on the path to new heights. Vince's fun and energetic style is coupled with insights from his New York Times bestselling books on leadership for the self. For 25 years, Vince has helped franchise leaders, do what the competition is not willing to do.
Keynote for Safety Conferences:
Accelerate Safety
"Safety cultures flourish and incidents go down
with the neuroscience of safety at work."
Vince Poscente specializes in helping safety conscious cultures improve risk performance through neuroscience and entertaining story telling. His Radical Safety program is backed by years of leading climbing expeditions in the Himalayas (14 years, zero incident), as a skier the Olympics, NY Times bestselling author and risk-aware partnerships with safety culture leaders around the world.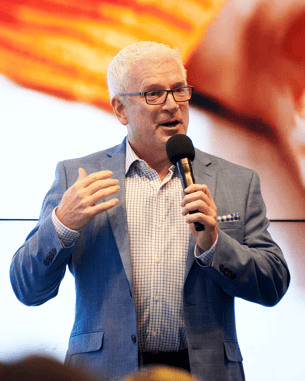 Build upon a safety mindset and deliver risk-aware results with a Radical Safety keynote.
Conventional safety keynotes offer inspiration to do things differently. A Radical Safety keynote, by Vince Poscente, explains how, in a fun and experiential way. The formula your audience will learn is based on three decades of research on how 'mind-set' is established and sustained. When people change their minds, they change their behavior, for good.
Vince Poscente knows that everyone can be the architect of their truth. Change your truth around safety and you can change the organization's safety culture. Vince is part neuroscience explorer, comedian and a master storyteller. His goal is to have your audience members experience a safety presentation they will remember for life.
Please note, when you choose the Radical Safety presentation, be sure to choose between a purely motivational keynote, insights packed with practical safety mindset tools, entertaining stories... or all three in one power-packed talk.
Keynote for Network Marketing Events:
Accelerate Your Buzz
"Do what the competition is not willing to do."
"Find your BUZZ and you've found your TRUE WHY!" Vince's motivational keynote speech for network marketing professionals has been delivered around the world for Direct Sales audiences wanting a high energy, humor and an inspiring message around accelerated goal setting. This "recreational skier to Olympics in four years story" has been Vince's most requested speech over the last twenty years. It revolves around the three key elements of "big goals fast":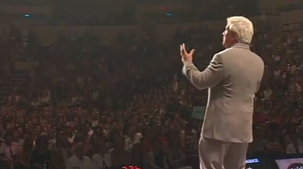 Alignment starts with each of us having an "emotional buzz" surrounding the goals in front of us.
Agility is facilitated when we "do what the competition is not willing to do."
Aerodynamics is all about efficiency and eliminating things that cause drag (such as fear and interruptions).
Call 214.335.0856 for Booking Information
Vince Poscente Bio on Accelerating Growth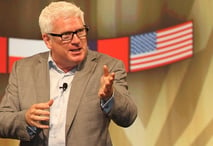 Vince Poscente is a New York Times bestselling author of eight books and has been an in-demand keynote speaker for over two decades. He is an Olympic competitor and inductee into the Speaker Halls of Fame in Canada and the USA. His repertoire of keynotes delivers energy, humor, and practical, take-home tools to accelerate growth. He was rated by MPI/eSpeakers as the top ten speakers in North America and Meetings & Conventions "Meeting Planners' favorite speaker."