Sales & Leadership Motivational Keynote Speaker 2018 Demo for Vince Poscente

Vince Poscente's keynotes: Vince is a high-energy expert on strategies and solutions that will definitely change how your team handles crisis, problems, competition and change while reaching all goals. He was rated by MPI as the top ten motivational speakers in North America and Meetings & Conventions "Meeting Planners' favorite speaker."
Motivational Keynote Topics:
Engage Your Entire Sales Team with
Do What the Competition
is Not Willing to Do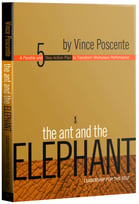 A motivational keynote speech based on the international phenomenon, The Ant and the Elephant (endorsed by LeBron James in Sport Illustrated) plus Vince's extraordinary story about reaching the Olympic Games in just four years and skiing at 135 mph (described as he stands on a chair)...
Sales people are a unique collection of high performing individuals, with considerable expectations, facing a cascade of opportunity. This is coupled with a world of personal accountability and life balance. New York Times bestselling author, Olympic competitor and award winning salesperson, Vince Poscente, delivers a wildly entertaining, thought provoking and substantive insight on how sales people can thrive in a competitive landscape. Vince went from recreational skier to the Olympic games in just four years. Skiing at 135 mph on skis, he shares a remarkable formula about: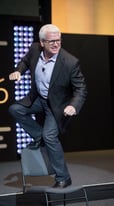 Clarity of Purpose
The Process of Commitment
Consistent Effort in a Competitive Environment
Building Confidence
Routines for Controlling Peak Performance
Giving executives and their sales people a collective experience allows a conference fulcrum for better sales execution and higher profits. The Ant and the Elephant - Leadership for the Self has profoundly affected countless sales teams explore internal motivation and future potential. (Learn More)
Motivate Franchisees to
Become Local Heroes


Franchisees who expertly shift their teams' focus from I to Us will become LOCAL HEROES. Vince Poscente delivers an interactive and transformational session following his own experiences after competing in the Olympic Games. Culminating in leading expeditions in the Himalayas, Vince covers the critical qualities that match the traits of everyday, local heroes - your franchisees.
Compassionate

- They have a level of empathy that supersedes ego. Their community wins.
Fearless

- Find the way to less fear. Their managers win.
Humble

- There is a magnetism to humility. Their team wins.
Selfless

- When you focus on others, they will join your efforts. Their customers win.
Persistent

- Persistent leaders gather and army of believers. Their business wins.
Vince uses keynote speaker ideas to craft his message specific to the franchisee owners, managers and leaders at yoru event. Vince researches like no other keynote speaker. He frequently acts as a secret shopper. Vince gives practical tools with instant impact as he motivates and entertains everyone in the organization to "Do what the competition is not willing to do.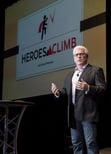 "What qualifies Vince to lead your franchisee owners and managers to a higher level of performance?" In addition to working with top franchise leaders around the country, Vince has coached the Chief of Protocol of the White House, HarvardBusiness Book authors, CEO's of multimillion & billion-dollar companies and entrepreneurs intent on delivering impact and mastering influence. Vince's acumen for speaking had him inducted into the Speaker Hall of Fame with the likes of Ronald Reagan, Zig Ziglar, Og Mandino and Jack Canfield. Vince Poscente is in-demand for his keynotes at corporate events around the world. This rare opportunity to learn from a master communicator, at the top of his game of speaking and motivation. This powerhouse keynote will help you climb your own personal and professional mountains.
Reinvent with
Your One Day Has Come


LeBron James used Vince Poscente's strategies in his transitions from Cleveland to Miami and back to his hometown. The Dallas Cowboys coaching staff used the principles with their team in their recent turnaround season. FedEx, 3M, AT&T and Hyatt Hotels use Vince Poscente's tools in their leadership team training keeping them out front in a competitive landscape. Vince Poscente helps teams target their emotion-drivers towards simplicity, synergy and life balance.
The underpinning of Vince Poscente's approach draws from 2,500 of research that went into Invinceable Principles. Vince will help your team reach their overall objectives with take-home tools on proactivity, consistency, respect, willpower, the art of achievement, the power of truth, fun and love. This is a transformational keynote for teams determined to accelerate quality outcomes. (See Video Reel)
Raise Network Marketing Pros' Commitment
Get Your Buzz On

"Find your BUZZ and you've found your TRUE WHY!" Vince's motivational keynote speech for network marketing professionals has been delivered around the world for Direct Sales audiences wanting a high energy, humor and an inspiring message around accelerated goal setting. This "recreational skier to Olympics in four years story" has been Vince's most requested speech over the last twenty years. It revolves around the three key elements of "big goals fast":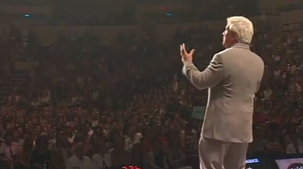 Alignment starts with each of us having an "emotional buzz" surrounding the goals in front of us.
Agility is facilitated when we "do what the competition is not willing to do."
Aerodynamics is all about efficiency and eliminating things that cause drag (such as fear and interruptions).
Build Leadership Momentum in
Full Speed Ahead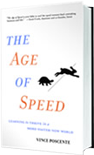 A business keynote speech based on Vince's New York Times bestselling book, The Age of Speed. He inspires audiences to thrive in world of more-faster-now.
Vince highlights the leadership essentials of: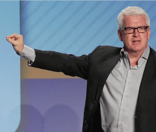 Alignment (with the emotional buzz)
Agility (by doing what the competition is not willing to do)
Aerodynamics (efficiency by eliminating drag).
The solutions to roadblocks for leaders of corporations are explored in this entertaining and thought-provoking message.
Vince heavily tailors his comments for each client. He prepares his speech with in-depth discovery surrounding strengths, weaknesses, opportunities and threats unique to each organization's circumstances. Vince considers himself a partner in the outcomes sought by event leadership. (Learn More)
Call 214.335.0856 for Booking Information
Vince Poscente Bio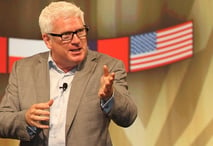 Vince Poscente is a New York Times bestselling author of six books and has been an in-demand keynote speaker for over two decades. He is an Olympic competitor and inductee into the Speaker Halls of Fame in Canada and USA. His repertoire of keynotes deliver energy, humor and practical, take-home tools. He was rated by MPI/eSpeakers as the top ten motivational speakers in North America and Meetings & Conventions "Meeting Planners' favorite speaker."