Expensive meetings, a truckload of logistical necessities and communication breakdowns coming from any direction can make a professional meeting planner weak in the knees. Plan your corporate event right and you are the hero. But, make any of these three pesky planning mistakes and you may wish you had stayed home.
1st Pesky Mistake: The Mismatch Maker
Be sure the people you connect with tasks are a match made in heaven. Like an old-school matchmaker who decrees relationship compatibility, coupling someone's skills with the needs at hand are critical. You may have a gut feel for someone or sense you can take a chance on a trusted employee, but beware. You don't want to be a "Mismatch Maker."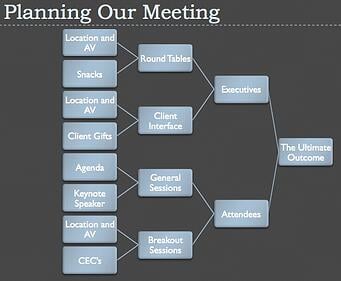 Un-mistake Able Tip: Planning a meeting is like taming a dragon with ten heads. Match proven skills with the vision you have for your event. To do this, start with the end in mind. Work backwards with this one simple question, "In order for this outcome to happen, this (insert action) has to occur." Repeat this until you have worked your way back to today. With one ultimate outcome, immediately split the next level into various entities: Attendees, Executives, Vendors, Contractors and Planners. You can come up with other categories as well. You will notice certain people have the skill set to fulfill certain actions. This is a flow-chart, similar to a sideways family tree or a sports bracket.
2nd Pesky Mistake: You Didn't Track Your Twerks with Tweaks
When young Miley twerked her way into our consciousness, it became an oft repeated phrase, "That's dancing?" The same can be said for any proverbial "left turn" in our plans. When the unexpected 'twerk' happens in your planning, you simply, in real-time, need to tweak your plans. Or you'll have a foam finger pointed at you and an uproar on your hands.
Un-mistake Able Tip: Consistently tweak as the weeks and days approach your big event. Tweaking involves three things: document, communicate and manage revisions. Changes in travel, weather, seating, food, speakers and the gazillion other logistics will happen. Leading up to your meeting, constantly be on the ready to track your 'twerks' with tweaks.
3rd Pesky Mistake: Only a Handful of Contingencies
Every planner has contingencies in mind but it is huge mistake to only have a few in place. For example, with an outdoor event, what if the weather changes where will we go? Ending your contingency planning here would be a mistake. This is your chance to go over the top with contingencies.
Un-mistake Able Tip: This is where multiple heads are better than one. In your planning phase, map out the various contingencies for every possible situation you can get your hands on.The more contingencies you can imagine, with a contingency sequence, the more prepared you are. Basically, dive deep in with this senctence, "If this, then that." This can be a fun process rather than an arduous task.
Split your planning team into groups and have each map out their ideas on contingencies. Being aware of any weak spots in what you planned can pay off big time when it is 'show time.'
About the author. Vince Poscente has spoken to over a 1,500 meetings in every setting imaginable:
Sunrise at the Acropolis
Outdoor Bahamas event in gale force winds
Flatbed stage while the Olympic torch comes from the other end of the street
6am motivational keynote in a cardboard manufacturing plant
18,000 network marketers
12 double PhD's at a Fortune 500 company think-tank
5,000 home-based-business females who admitted, "We don't get out much."
Countless, convention ballrooms full of salespeople / leaders / user groups / IT pros / (you name it)
He has partnered with numerous professional planners as a keynote speaker who cares about the meeting outcomes.
If you would like to spend 15 minutes discussing your next meeting with Vince Poscente, click here.