You'll never forget the moment when you look into an athlete's eyes - specifially one who just placed fourth at the Olympics. Despite my position now as an Olympic keynote speaker remeniscing about a moment 22 years ago... the memory is still fresh.
Laurent Sistach placed fourth in the 1992 Olympic Winter Games in Speed Skiing. I found him in the bar the night following the finals. Hiding behind a glass of Jagermeister he looked up slowly, shrugged and gazed back in the glass as if it were a crystal ball beaconing his future.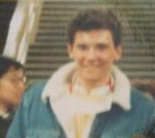 For eight years he had trained hard. His reward? He got to watch the medal ceremony wondering why those ancient Greeks didn't have a fourth podium, an aluminum medal and a token crown of olive branches.
Somebody has got to lose though. (Besides, imagine being a fourth place luger. Or a fourth place doubles luger…)
At the Olympics there really are only a few dozen really happy athletes. The rest are thinking about a small mistake, equipment failure or a crappy seed.
The great equalizer is something that nobody knows about though.
It is the athlete's party at the end.
If you watch the closing ceremonies of the Olympic Winter Games in Sochi, realize that 50+ buses lined up outside the Olympic stadium waiting to take the athletes off to a party that was only for them.
No coaches, no officials, no media… just music, dancing and, flat out fun.
Figure skaters run around like Lilliputians between the legs of lumbering Bobsledders. Lubricated skiers mix with semi-vertical lugers. Gunless biathletes with toothless hockey players. Spry ski jumpers with red-eyed boarders. Medalists with non-medalists. But every single Olympian has the same thing on his or her mind. It's over and I am free for this one night.
Even the person who placed fourth is free.
The Greeks have a saying that the fourth-place athlete should remember in the days and weeks following.
In the Olympics, you don't lose.
You win second place… you win third place… you win fourth place.
Ah… bugger it. You placed fourth and the feeling sucks.
Cheers Laurent! Where ever you are.
(This blog was an updated reprint from an eBrief published in 2006 after the Torino Olympic Winter Games.)