These words, first heard 23 years ago on a remote trek, are now for your ears.
"Do you like adventure?"
If so, you may be interested in one of three available spots for an expedition to summit and name a mountain in the Himalayas. If "adventure" doesn't only involve remote expeditions, you are correct. If "the hammock" is the adventure you'd rather have, you might want to keep reading.

I first heard, "Do you like adventure?" in 1992 when a expedition leader, Frank, needed support along the infamous Adrenaline Surge route of the West Coast Trail. Adventure can be a healthy addiction. Years later I joined teams for the first ever ascent of Chakri Peak (16,000 feet), up the jagged, rocky teeth in Sikkim and to the summit of Shrikhand Mahadev (17,195 ft with my son Max). I also lead an expedition over the 17,000 foot Pin Parvati Pass. Our plan to name a peak near the pass never materialized but one thought never went away. "How cool would it be to name a mountain?" Put that on your bucket list and smoke it. (If you're going to mix a metaphor, at least make it mysterious.) On July 3rd and 4th of 2016 we climbed and named two summits in the most remote parts of GHNP. (Maish Mountain, 15,016 ft and Hana Peak, 14,800 ft).
What adventure is on your horizon?
By their nature, adventures are always easier in retrospect, but also, by their nature, adventure beckons curious souls wanting to squeeze more out of life. Getting comfortable with life is like climbing into a hammock. It can envelop you and won't let you readily escape. On the flip side, adventure can have moments of profound discomfort but laced with supreme bliss, enlightenment and wonder.
Where is the next adventure you will set out on?
If joining a June 11 to July 25th, 2017 expedition into the Himalayas is of interest to you, click here.
Having been on seven expeditions, five of which in the Himachal Pradesh and Sikkim regions of the Himalayas, I'm now gathering adventure seekers interested in the experience of a lifetime. On June 11th 2017 we will be setting out for a trek to the top of the world. It will be a non-technical climb in the most remote parts of the Great Himalayan National Park. Waiting for us are certain mountains which touch the sky, yet have no name... yet.
If climbing to the unnamed summits is not your cup of chai, then what adventure awaits you?
Enough entropic comfort already. Climb out of that hammock and explore.
Do you like adventure?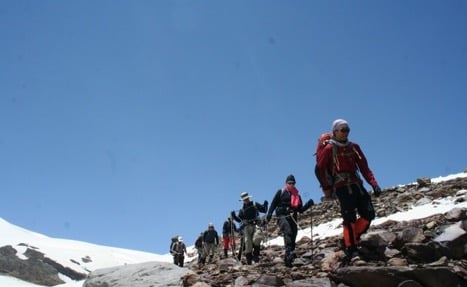 PS Remember, this is an "application only" expedition. Application does not equal acceptence. There are only a few spots left. Please be sure to tell us why you would be a valuable member of our team.