No matter how much we invest in ourselves, we always have some measure of self-doubt. How does one say goodbye to the negative voice sitting on our right shoulder? Well, we couldn't think of anyone better to guide us, than Vince Poscente, the internationally acclaimed keynote speaker, founder of The Goal Acceleration Institute, and author of two of our favorite books: The Ant and the Elephant and The Age of Speed. His specialty? Helping people achieve big goals in less time.
We would like to share with you an interview between getAbstract and Vince Poscente.
gA: How would you describe the two books of yours that we've created summaries of for getAbstract?
VP: Well, The Ant and the Elephant is a personal development book, told in parable format; the ant being the metaphor for the conscious mind, and the elephant for the subconscious. The theory is that when you align your ant and your elephant then things get easier and more fun; in other words, it's less arduous to get to where you want to go. And then The Age of Speed is more of a concept book about the world we live in, and how we can thrive in a fast-paced world without feeling like we're overwhelmed.
gA: Thanks! OK, so tell us, how do we conquer that little voice of doubt? The naysayer that sits on our shoulder?
VP: First off, give him or her an identity – for me he's short and green – and then accept that the voice of doubt is completely natural and there must be a reason why the subconscious mind serves it to us. Simply acknowledge that the voice of doubt is there, and to talk back to it. Say "Thank you for your opinion but that's not part of my vision. My vision is [insert your elephant (i.e. emotional) buzz here] because that's what will get me to the endpoint I desire."
Want to help your employees move past self-doubt and on to greatness? Please let me know and I will customize the flyer below containing Vince's titles in addition to a selection our getAbstract's most popular motivational summaries.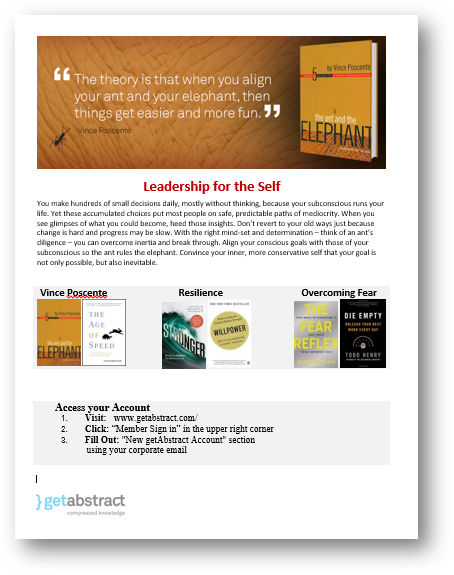 (Above was value add sent by getAbstract to their individual clients. Should you wish to save time and stay current on the latest business books, check out www.getAbstract.com)
Click to edit your new post...