If you have clever promotional material, you will get someone's attention. If you can make them laugh, you've graduated to Giggle-Grab Marketing.
Stand-out marketing materials have impact and influence. Unfortunately, the massive volume of other organizations with an event to promote, a product to sell or a service to pitch has made the prospect of engagement exceptionally hard. The solution lies in your ability to create what the competition hasn't thought of.
The following is an example of a Two-Part Giggle-Grab Marketing campaign to promote the Big Goals Fast keynote.
Part One:
As you remember in recent history, snow covered a massive part of the United States and Canada. We decided to seize the arctic chill with our high-value agency partners. With the 36 speakers bureau agents who booked us in the previous year, we stood apart from the competitive business of motivational keynote speakers and sent the following via the postal service. (Note: When is the last time you recieved a personal letter?)
A packet of Forget-Me-Not seeds.

A coupon for Free NY Times bestsellers for the agents' favorite client audiences.

A personalized note about planting seeds with their clients this spring.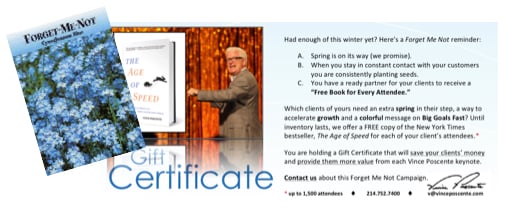 Part Two:
Three weeks later, we reprinted the certificate. But this time, we crumpled it up and stuffed it into a small envelope with a Post It Note. We mailed this to the same speaker bureau agent. The note stuck to the crinkled certificate had following hand written message...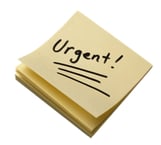 Dear (first name), We found this in your garbage and thought you should keep it. Seriously, we love making you look good with your clients. We hope your spring has sprung and the seeds you've planted grow into abundance. Take care, Vince.
Within days the phone lines lit up and emails flooded our inbox. The Giggle Grab Marketing campaign helped us stand out from the competition, build business and have a bouquet of smiles across the land.