For a motivational keynote speaker of 20 years, there is very little stress associated with that one hour on stage. But for event coordinators, the mismanaged stress can be all consuming. Persistent, on-the-job stress can manifest into a cadre physical and mental issues. Event planners, you earned every gray hair on your stress-for-success head.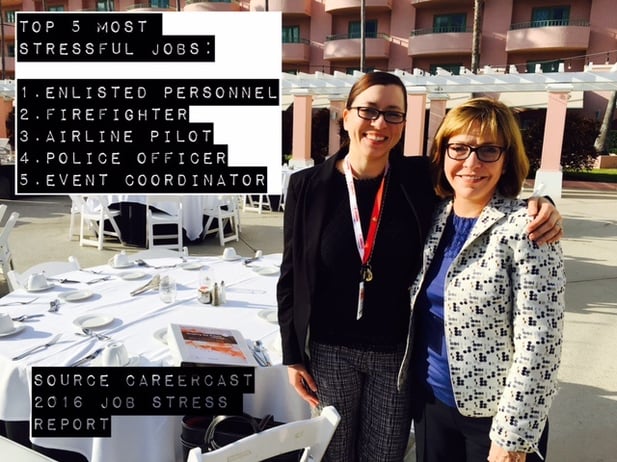 "What stress? They hired pros." Madison Advisors 2016 CCM Roundtable Event Organizers - Kelly Dittrich & Patricia Kilgore
Each of us can readily empathize how serving in the military, police force, fighting fires or flying a plane can be stressful, but you don't truly know how stressful planning an event can be until you've walked a mile of convention center corridors in their shoes.
How hard could it be? Fourteen years ago, the echoes of the stress organizing a surprise birthday party still linger in the dark shadows of my psyche.
The surprise? A fake funeral as my wife's 40th birthday party. The idea (admittedly, not a great one) involved:
Invitations sent out as a replica of an obituary in the newspaper.
The guest of honor, Michelle, enters and is immediately ushered down the aisle atop a chaise lounge; carried by 6 pallbearers.
The event would be hosted by a Professional MC.
The eulogies would be given by friends and relatives based on a specific agenda.
Between each eulogy, video messages would play from people who couldn't make the Dallas event.
A mixer would conclude the event with food and drink.
After just one event, I swore I would:
Appreciate every single event planner I ever met in my keynote speaking career.
Never, ever plan another event unless I hired professionals.
Did I mention, never plan an event without professionals?
The professional MC, Dale Irvin, did a masterful job. He was funny, on point, did a hysterical opening, moved the eulogists along and rolled with any issue that came up. Outside of that, there were PLENTY of issues. The eight guest presenters did a fine job, but organizing them, covering for those who didn't show up as promised, shifting the schedule around for others who wanted to speak at a different time, nudging the amateur-hour-going-long, adding last minute audio/visual handed to me minutes before they were to speak.... Then there was the technology! Making sure the videos played with the right sound and timing. NEVER AGAIN... without professionals.
Event Planners - you have chosen a profession where perfection seems to be your client's minimum expectation. Anything that goes wrong, gets noticed. And in today's world where someone has to take the fall. Tag, you're it.
If you know, or work with an event coordinator - be kind to them. Give them hugs. Buy them each a massage following the meeting.
If you are an event planner - be kind to yourself, go get hugs from your adoring fans, get that massage after your event. You picked a rewarding profession with the prospect of a thorny path.
Oh, and as for organizing a funeral for your wife (in place of a real birthday party...), let's just say, Michelle has a sense of humor but I'll never do that again either.