PwC surveyed 1,322 business leaders across 77 countries between September 25 and December 9 in 2014, including 103 CEOs in the US, for insights on how businesses are setting a course for growth. PwC also sat down with 28 US CEOs to gain greater context.
US CEOs intend on making their company smarter
They are seeking to move their organization up the learning curve in distinct ways. This year, the interviews and responses reveal:
CEOs are innovating and accelerating the impact of technology for their customers. CEOs say they are seeing real payoffs from these investments. They expect to take risks to operate within diverse and fluid networks.

Yet as CEOs spiral up to better performance with a new set of technology capabilities, tensions are surfacing inside the organizations that are acute and are not going to get better. Activist investors and competitors are pressuring businesses to find new ways to extract value now. Half of US CEOs (50%) believe a significant competitor is emerging or could emerge from technology sector versus 32% of CEOs globally.
Much within their own portfolios are under review—hard assets as well as capabilities. Over half of US CEOs (54%) say they expect to complete a domestic acquisition this year, up from 39% a year ago. This year, 23% plan to divest a majority stake or exit a business, up from 15% a year ago.
But it's not all about buying (or selling) assets. US CEOs are widening their use of alliances to secure new technology and speed up innovation. They are significantly more willing than peers globally to consider partnering with competitors or customers. Traditional industry boundaries are blurring, and CEOs expect cross-industry competition to accelerate. Over a fifth (24%) say their business entered or considered entering the tech sector within the past three years.
Businesses are recruiting for a wider range of skills and looking for the right fit in more places. They want to better reflect the increasingly global and dynamic customer sets of their organizations as well as meet growing technology demands within their organizations. Over half (59%) expect to expand headcount this year.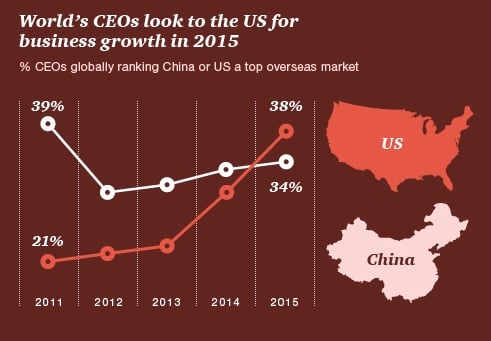 For the full article... http://www.pwc.com/us/en/ceo-survey/index.html