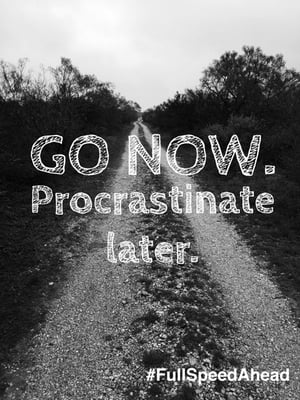 Challenge your own self-motivation. Take yourself to task on what you could do to raise your own drive to succeed.
With one toe on the side of sarcasm and the other foot planted firmly in You-Best-Pay-Attention; noodle on this saying: "Go Now. Procrastinate Later."
Let's take a deeper look.
Take the iconic Nike slogan "Just Do It" and combine it with the Masaaki Imai's famous corporate rally cry for continuous improvement, 'Kaizen.'
Mr. Imai offers ten basic tips for kaizen activities. Let's combine these with a way to procrastinate later, and you have a way to amp-up your self motivation starting immediately. Think of a project that is weighing on you right now.
Follow these 10 Tips for Self-Motivation:
Tip #1: Discard conventional fixed ideas. Move forward to definable goals. Do not focus as much on the path to get there. New opportunities and new directions may occur to you along the way. Raise your gaze.
Tip #2: Think of how to do it, not why it cannot be done. "Realistic" is a dangerous word. Instead, by knowing that the outcome would be desirable, hypothesize methods to accomplish this goal.
Tip #3: Do not make excuses. Start by questioning current practices. Again, focus on the outcome. Excuses will not take you there, but acting on the means to the end will. Do not be afraid to make mistakes. You will learn more by failing.
Tip #4: Do not seek perfection. Do it right away even if for only 50 percent of the target. For example, four months after having the idea to write my first book, it was done. I did not wait to start. I did not wait at each stage. Of course, I wanted the book to be perfect, but that would never be. Along the way, implement tip #5.
Tip #5: If you make a mistake, correct it right away. I saw a bib that says "Spit Happens." Mistakes happen. High-performing people correct their mistakes immediately, especially when those mistakes involve other people. "Hey, I made a mistake. I have an idea of what we can do about it."
Tip #6: Do not spend money for kaizen; use your wisdom. How much do you know about the way your car is repaired when you take it to a mechanic? Chances are, nothing! When you seek to personify proactivity for your own pursuits, then you must be proactive. Remember, however, some of the best solutions happen when you pause, stand back and think. "Just Do It" is not about blindly charging ahead. Plan. Take ownership and move yourself through the process.
Tip #7: Wisdom is often born out of people faced with hardship. Welcome problems as opportunities to learn. Think of a hardship that you have experienced in the past. Now ask yourself, would you change anything about that experience? Most often, the answer is "No, otherwise, I wouldn't have learned what I know now."
Tip #8: Ask "Why?" five times and seek root causes. Each time you ask why, come up with a new answer. Go deeper with each answer. You will surprise yourself.
Tip #9: Seek the wisdom of ten people rather than the knowledge of one. Remember a person's perspective is their truth. You will learn ten truths versus just one.
Tip #10: Kaizen ideas are infinite. You never "arrive." You are in a process of learning and growing. Always seek higher ground.
If you scanned this article and didn't truly reflect on a project you are struggling with... STOP. Take a breath and ruminate on each of the ten tips. Pay special attention to Tip #8.
Stop procrastination at its fear-based source. Go now!
PS Even motivational keynote speakers need self-motivation. I wrote this blog for me as much as you. I wrote it now, because later is too late. :-)