On a recent LinkedIn Poll, I asked folks, just like you, "Which leadership characteristic was most effective in a job, project, or team you've been involved with?"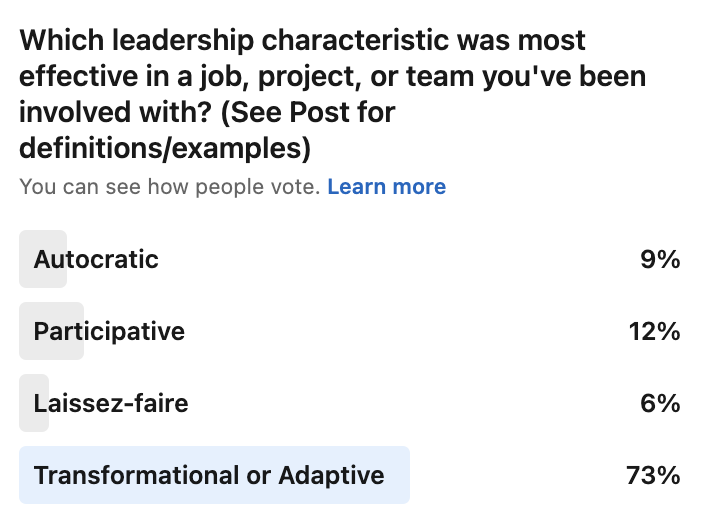 Definitions of each leadership style featured were:

Autocratic – Confidently issues directives, especially in urgent situations. An autocratic leader promptly and effectively issues strategy, procedures, and direction. This leader may praise personally but will just as easily criticize someone. They can be friendly or hostile putting a priority on the health of the organization. Example: Bill Belichick and Margaret Thatcher

Participative – The leaders gather input from team members for everyone to contribute to decision-making. The leader still decides but allows others to feel engaged in the outcome. They can spark creativity while remaining objective. Examples: Indra Nooyi, Walt Disney, and Nelson Mandela.

Laissez-faire – Don't let the name fool you. They are far from a lazy leader. They empower employees without micromanagement. They provide feedback when asked, otherwise, they listen carefully and are expert delegators. At times, the team may not fully understand the organization's mission or the leader's expectations. Examples: Steve Jobs and Warren Buffet.

Transformational – Employees rally around their grand vision. With a team eager to evolve personally and professionally – they coalesce under a singular cause. Their qualities include encourager, communicator, visionary, and inspirational. While lines of communication are always open, burnout and some feeling left out of the big picture may occur. Examples: Meg Whitman and Jeff Bezos
and/or
Adaptive – This leader adapts as needed. They can be an autocrat when there's chaos than a lassez-faire leader when necessary. They may democratize decisions, then be more proactive with transformational leadership. Examples: Cynt Marshall, Richard Branson, and Abraham Lincoln
Comments included:
"When working with companies I use Transformational. that being said, I would say a good leadership style must be situational, so the answer would be Adaptive. Whereas when working on a new project and looking for innovation, might be participative, etc."
Dr. Karen Jacobson, CEO of Aligned Leadership
"I gravitate to transformational but I know it depends on the situation. I pilot who has lost three engines is probably not going to focus on inspiring the team. She'll be focused on a "pack mindset" where each member of the crew knows exactly what to do. BTW, Eric McNulty has some great thinking on this in the book, "You're It: Crisis, Change, and How to Lead When It Matters Most."
Dain Dunston, Founding Partner at Reservoir, LLC
"I choose laissez-faire. That worked for me as an often traveling CEO. I had great people execute the plans day to day!"
Dianna Booher, Hall of Fame Speaker - Bestselling Author
"In the words of the late Arte Johnson, "Verly Intelesting." On the more serious side, Vince, I would have to classify myself as adaptive. The biggest challenge to that characteristic is clear communication that connects with the audience."
Brian Kennedy - Small Business Leadership Consultant
"Love the breakdown of each leadership type. I think there are good attributes to each one of these leadership styles but at the end of the day we must be able to adapt to any scenario."
Chip Eichelberger, Certified Speaking Professional
Here's to good leadership that is required in times of uncertainty, opportunity, challenge, and triumph.