There are times when values get tested (or ignored) by personal earthquakes. In particular, the pursuit of excellence can impinge when a massive or painful setback is front-of-mind.
We are all led by certain values that are inherently a filter for how we each interpret our world. Organizations have values that help them and the world they interact with interpret their position and how people see them.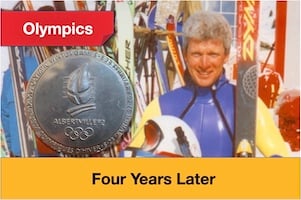 The International Olympic Committee has three guiding values of Olympism. Excellence - Friendship - Respect. "They constitute the foundation on which the Olympic Movement builds its activities to promote sport, culture, and education with a view to building a better world."
As an Olympian in the crosshairs of a financial setback around 2008, my deeply held value of "The Pursuit of Excellence" took a back seat to basic survival. (Yeah, Maslow, I get it.) This experience led me to write The Earthquake as a formula for getting back to 'thrival' over survival. The three things we can each do when enmeshed in a personal or interpersonal setback is:
Give Yourself a Break

Give Others a Break

Give it Time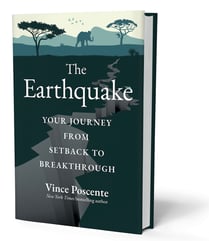 As you may know, the opening line in the book, The Earthquake is, "There's no linear way out of chaos." Given that fact, a path of self-discovery awaits.
Read the book.
Take care.
You've got this.
#wegotthis #TheEarthquake #mindset #setbacks #breakthroughs
Biography Insights:
Vince Poscente is one of the most in-demand motivational keynote and virtual presenters on the planet. His expertise in resiliency and how to overcome obstacles thrills audiences worldwide. When you bounce back stronger than ever confidence and fun goes up. Vince's client list includes world-class organizations dedicated to being bigger and better. When employees and entrepreneurs handle setbacks, supersede obstacles, and are more focused - record-setting results happen faster than expected. Vince knows first-hand how innovation, persistence fearlessness plays in your future success. He speaks from experience. His foundation is with proven tools. Where does Vince Poscente's "From Setback to Breakthrough" expertise come from?
Recreational skier, Vince to Olympic athlete in just four short years.

Award-winning sales and marketing executive with the world's largest real estate investment service.

Earned a Masters in Organizational Management while being an award-winning business owner.
One of only four people on the planet to be inducted into the USA and Canadian Speaker Halls of Fame.

New York Times bestselling author of eight books.
Leader and participant on seven Himalayan Expeditions
What are your teams' challenges? An uncertain economy? Negative attitudes? Competition? Lower productivity?
Vince is the #1 go-to guy for taking a team and teaching them how to sell more, lead better, and produce more. Vince will help you move past obstacles and create the success you, and your team, want and deserve.
Vince Poscente has practical tools to change how your team handles crisis. Problems. Competition. And change. Without understanding resiliency and the absolute importance it plays on everything and everyone—your team will not have the skills they need to overcome the things that will inevitably stand in their way. #mindset #setbacks #breakthroughs