Have you noticed people are increasingly uncertain about the future? This visceral doubt sparks fear. Here's the antidote to this pervasive type of fear:
The Heroic Leader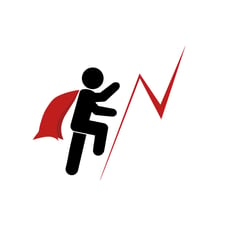 If you are in a leadership position, simply stating your vision of the future is not enough. (psst... if your lips are moving, you're in a position of leadership ;-)
There are five, essential character traits that will make your words resonate and generate much-needed optimism.
These same traits are abundant in everyday heroes.
Heroic Leaders are:
Each of us embody some of these heroic character traits, but we can always improve in all of them. Challenge yourself to be more compassionate, fearless, humble, selfless and persistent.
Do this and fear will dissipate while a clear, bright future will unfold.
*************************************
About the Author:
Vince Poscente helps audiences overcome obstacles and sustain resiliency.
In 2017 he's among the 10 Highest Rated Inspirational Speakers for Business.
www.Goals-Fast.com