Good leaders communicate. Great leaders have Champions.
Yes, good leaders are communicating to their people.
Great leaders are leaning on experts and seasoned professionals to help map out a game plan to defend the state and champion the cause.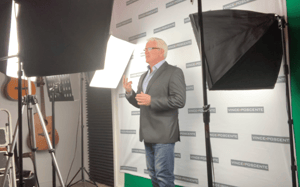 In days of old, King's Champions would defend the crown against any challenger.
The COVID-19 Pandemic is a formidable challenger to any company's position and livelihood.
The time is now for leaders to call on Champions to enter the foray. Yet, that line of defense will come from:
Expert on-line messaging,

Superior video training, and
Practical group coaching.
It's even better if your Champion has a Jester's DNA. The Jester is not the fool, but a colleague in honesty. In literature, the court jester was used for insight and advice on the part of the monarch, optimizing his license to speak freely with frank observations. That is what a great leader, and his/her people, need!
Conventional training will not do. Radical impact and influence is the order of the day. The time is now for radical safety.
Be a great leader. Lock arms with your champion.* Speak in a united voice of honesty and urgency.
*Vince Poscente is a master communicator with over two decades of helping leaders champion a message. His presentations are broadcast from his desk, studio or stage to audience looking for increased resiliency and determination. Vince has lead expeditions to the summit of unclimbed peaks in the Himalayas along with overcoming the fear of skiing at 135 mph in the Olympic Games. He is an expert in taking on paralyzing challenges and thriving while doing it. He is the founder of Radical Safety and ranked at one of the World's Top 10 presenters in the corporate landscape.